Mrs. Capell's Science Class
Evolution is the fundamental idea in all of life science - in all of biology. Bill Nye
Laboratory Science
In Laboratory Science class I am working with students to move past memorization and start learning how to engage in scientific practices including investigative design, data analysis, and scientific argumentation. These practices (along with others) are the focus of the new Next Generation Science Standards. The goal of class is to support students as they develop the skills to "think like a scientist"
student investigation to determine if guppies have a favorite color
Powered by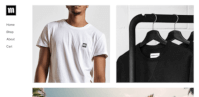 Create your own unique website with customizable templates.